Get An Oral Thumbs-Up From Your Dental Expert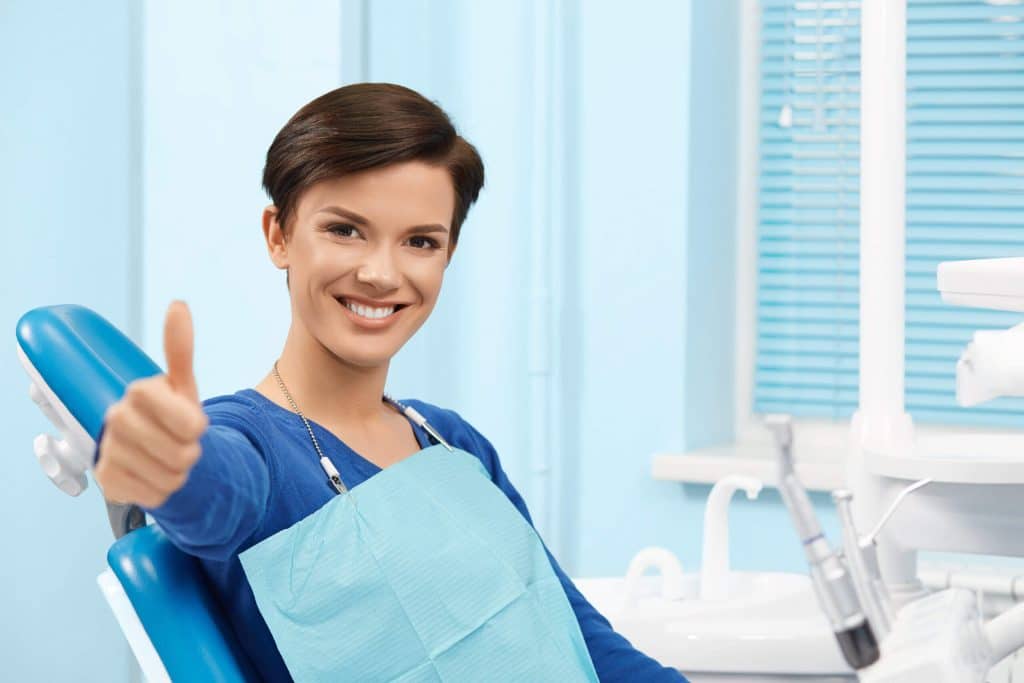 The arrival of National Toothache Day on Feb. 9 is designed to remind dental professionals and everyday people about the need to keep teeth healthy. Dental hygiene, treatments, and nutrition are essential to maintaining a beautiful smile. But based on data from the Centers for Disease Control and Prevention, too many community members are falling short of optimal tooth health.
About 90 percent of adults over 20 years old reported at least one cavity.
Approximately 35 percent of adults did not visit a general dentist in 2019.
Adults aged 20-44 suffered untreated tooth decay at a rate of 25.9 percent.
Of children 5-19 years old, 13.2 percent had untreated tooth decay.
More than half of children 6-8 had a cavity in their baby teeth.
Adolescents 12-19 years old had at least one cavity at a rate of 57 percent.
Almost 15 percent of children did not visit a dentist in 2019.
Those are reasons why we recognize National Toothache Day and work diligently toward improving dental hygiene. At Advanced Endodontics, our goal is to ensure everyone enjoys the beautiful, toothache-free smile they deserve. Some interesting facts about the tooth:
Our teeth are the first step in the digestive process and enables us to speak articulately, consume effectively and prevent of bone loss in the jaw
Teeth can't regenerate.So once lost or extracted, they don't grow back
They are like fingerprints, no two person have the same set of teeth, not even identical twins
The enamel on teeth is the hardest part in all your body, even more so than bone.
We hope the following information helps you avoid tooth decay and other oral conditions.
Maintain a Healthy, Well-Balanced Diet
The World Health Organization (WHO) has been a strong balanced-diet proponent and urges people to reduce sugars. Its healthy body and teeth guidelines call for daily sugar intakes to drop below 10 percent. While the WHO outlines a 90-10 split as adequate, the organization further urges people to drive sugar intake percentages below 5 percent.
Americans come in contact with sugars in wide-reaching products ranging from sodas to breakfast cereals. Sweeteners are also typically used to enhance the flavor of processed foods. Minimizing sugars and maintaining a diet consisting of fruits, vegetables, grains, and lean proteins supports overall wellbeing. Eliminating sugars is an excellent step toward avoiding a potential toothache.
Take Steps to Protect Your Baby's First Teeth
It's essential to understand that a child's primary teeth remain just as important as their permanent ones. First teeth help children learn to talk and allow them to chew healthy foods. They also serve as placeholders for adult teeth. If a child's primaries suffer decay, removal may disrupt the pathway for adult teeth to follow. A child's toothache could have significant ramifications. That's why parents and caregivers would be well-served to consider the following baby teeth hygiene tips.
Wipe an infant's gums with a warm washcloth daily, even before their first teeth arrive. This removes sugars from the gums and mirrors brushing and flossing.
Do not allow children to use sippy cups with juice or milk for prolonged periods. These seemingly healthy beverages possess cavity-causing agents.
Using a soft toothbrush and a tiny dab of fluoride toothpaste, clean your child's teeth twice daily.
The American Dental Association recommends that children see a dentist within six months of their first tooth or at age 1, whichever occurs sooner. Practicing sound dental health routines during a child's formative years ensures they will not suffer a toothache. And by raising a child to brush and floss daily, they are far more likely to get a thumbs up from their dentist.
Drink Water to Stay Hydrated
Stores and supermarkets are filled with so-called sports drinks that claim to advance hydration and energy needs. But many of these beverages include sugar, and others are laced with acidic elements that harm your teeth. Rather than scour ingredients labels to find the least harmful drink, it may be easier to avoid these products. Sometimes the best solution is also the simplest — drink more water.
Contact Advanced Endodontics for Help with Your Oral Health Needs
The importance of following fundamental oral hygiene practices cannot be understated. Brushing, flossing, mouthwash, diet, and visiting a dentist twice per year for a checkup and cleaning are effective ways to avoid a toothache. If you have any further questions, feel free to ask while visiting one of our Advanced Endodontics locations in Florida. Although we specialize in procedures such as root canals, we strive to ensure our valued community members enjoy the smile they deserve. To schedule an appointment, contact one of our five convenient locations.