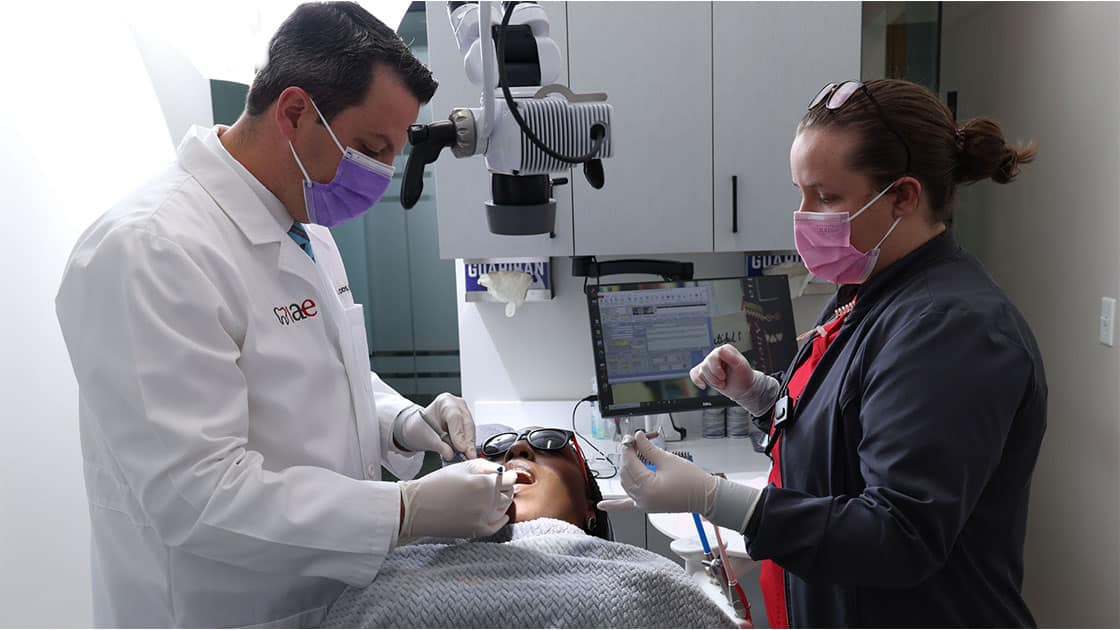 Advanced Endodontics provides endodontic surgery in Central FL. Contact one of our offices to learn more and schedule an appointment.
What is Endodontic Surgery? 
Endodontists can handle some very complex dental cases. And while a root canal can often be very beneficial, it doesn't always fix the tooth. Using endodontic surgery, an endodontist is able to explore the tooth more deeply, locating small fractures or hidden canals that may have previously gone undetected.
A very common type of endodontic surgery is known as an apicoectomy – sometimes referred to as apical surgery or root-end surgery. This is often the next step after a root canal treatment and potentially a root canal retreatment. Sometimes the infection may have made its way to the root's tip found at the jaw bone. And this can lead to bigger problems. With an apicoectomy, a small piece of the root tip is removed and the root canal is sealed. 
There is no need to be alarmed if your endodontist recommends surgery. Thanks to advanced procedures and state-of-the-art technology, endodontic surgery is performed comfortably, gently, and with great success. 
What is Endodontic Surgery? 
Believe it or not, there are benefits to endodontic surgery, such as: 
Saving your natural tooth – and avoiding extraction


Minimizing risks to your health should the infection be allowed to spread


A high success rate for healing chronic infection
Are You A Good Candidate for Endodontic Surgery?
While endodontic surgery can prove very beneficial for some patients, not everyone is a candidate. Your endodontist can do an exam to determine your best treatment options. Those with the following may find success with endodontic surgery: 
Persistent pain and infection after a root canal and root canal retreatment


Deeply rooted infection that can't be reached by root canal treatment


Root resorption is occurring


Infection in the bone that is not healing


X-rays that show something unusual that needs to be explored
Frequently Asked Questions About Apicoectomy
How long is the procedure for apicoectomy?
Typically, you are scheduled for 2 hours but the procedure itself is 90 minutes.
Will you put me to sleep during my apicoectomy?
Most of our cases are done under local anesthetics. There are oral sedation or nitrous oxide available for patients having anxiety. IV sedation is not used at our office for treatment at this time.
Will I need someone to drive me to the office for my root canal treatment?
No, you would only need a driver if you are taking a prescription for oral sedation.
Is root canal treatment considered endodontic surgery?
No, root canal treatment is a non-surgical procedure. In most cases, it is attempted first in order to see about curing the issue without having to move forward with endodontic surgery.
How long should an apicoectomy take?
There is not a set time frame for an apicoectomy, but generally, it takes anywhere from 30 to 90 minutes depending on the tooth's location and the complexity of its root's structure. Your endodontist should be able to give you a better idea of what you can expect as it relates to your needs.
Is endodontic surgery painful?
No, endodontic surgery is not painful. Local anesthetics are used to ensure that you won't feel anything during the surgery. Once this wears off, it is expected that you will experience some discomfort. This may last anywhere from a few days to a couple of weeks. Because the jaw bone is impacted by an apicoectomy, it can take months for the jaw to heal.
Looking for an endodontist in the Central Florida area? Contact us today to schedule an appointment.