How Lasers Help With Post Surgery Pain Management And Recovery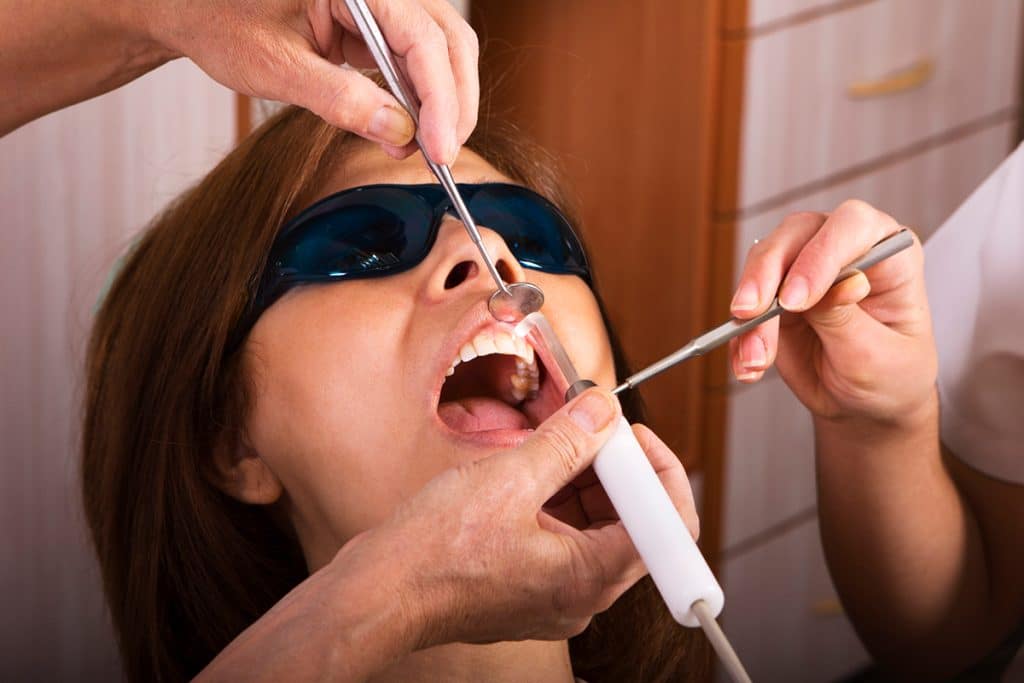 Dental lasers are a relatively recent technological advancement in the field of dentistry. The use of lasers in dentistry has numerous benefits for patients as well as dentists and dental specialists such as endodontists and periodontists.
In the field of endodontics specifically, dental lasers aid in many procedures, both surgical and non-surgical. Some of the biggest benefits involve reduction of post surgery pain and accelerated recovery. How do lasers accomplish this? Find out as you read more about the latest technology in endodontics.
What Are Dental Lasers and How Do They Work?
A dental laser creates a concentrated beam of light energy. This energy is capable of vaporizing various types of tissue rather than cutting or drilling with a scalpel or other manual tools. Dental lasers work on the soft tissues of the mouth such as the gums, and hard tissues such as the teeth and jaw bone. A dental laser is more gentle than traditional dental tools, reducing vibrations and noise.
What Endodontic Procedures Are Lasers Used For?
Dental lasers can be used in any of the following endodontic procedures:
Root canals. In a root canal, a dental laser can be used to clear out the dental pulp and any diseased tissue from the inside of the tooth.
Apicoectomy. A dental laser can be used to access the tip of the root in an apicoectomy to remove the damaged tissue.
External resorption. Sometimes the body attempts to resorb, or dissolve a tooth. A dental laser can be used to address the source of the problem, typically the inside of the tooth.
Apexogenesis. When the nerve of a tooth is inflamed but the root itself has not developed properly, a dental laser can be used in a procedure called apexogenesis to help disinfect the nerve while helping the nerve close the root and protect the tooth from infection.
Apexification. A tooth that is damaged by a trauma of some kind may need to be repaired from the inside or from the roots. A dental laser can be used for this procedure as well.
How Do Lasers Improve Recovery?
All of the above procedures involve the removal of some tissue to access other tissue. Dental lasers gently remove both hard and soft tissue to allow for treatment of the inside of the tooth or the roots of the tooth under the gums. In what ways does this improve recovery?
Reduced bleeding. A laser naturally cauterizes the tissue as it works, which reduces bleeding.
Reduced inflammation. There is less inflammation of the tissue with a dental laser, which also reduces swelling and discomfort.
Reduced pain. A dental laser reduces the amount of damage that occurs to the tissues of your mouth, which means you feel better and recover much more quickly. Most patients need significantly less pain medication following procedures performed with a dental laser.
Faster recovery. Lasers with wavelengths between near infrared and infrared can help reduce pain and promote healing by increasing both blood flow and collagen production. It also speeds up lymphatic drainage when applied in the right places.
Who Offers Laser Endodontics?
If you're in need of endodontic treatment, look for a practice that offers laser dentistry. Ask about the use of laser technology before you become a patient at any endodontic practice. Laser dentistry is not the future of endodontics, it's the present. Any practice that is not utilizing laser technology is using outdated methods that are not as beneficial for patients. Advanced Endodontics welcomes any questions you have about laser endodontics and look forward to having you as a patient.
Call 407-347-6874 or contact us today to learn more and schedule an appointment.