All About Internal and External Resorption Prognosis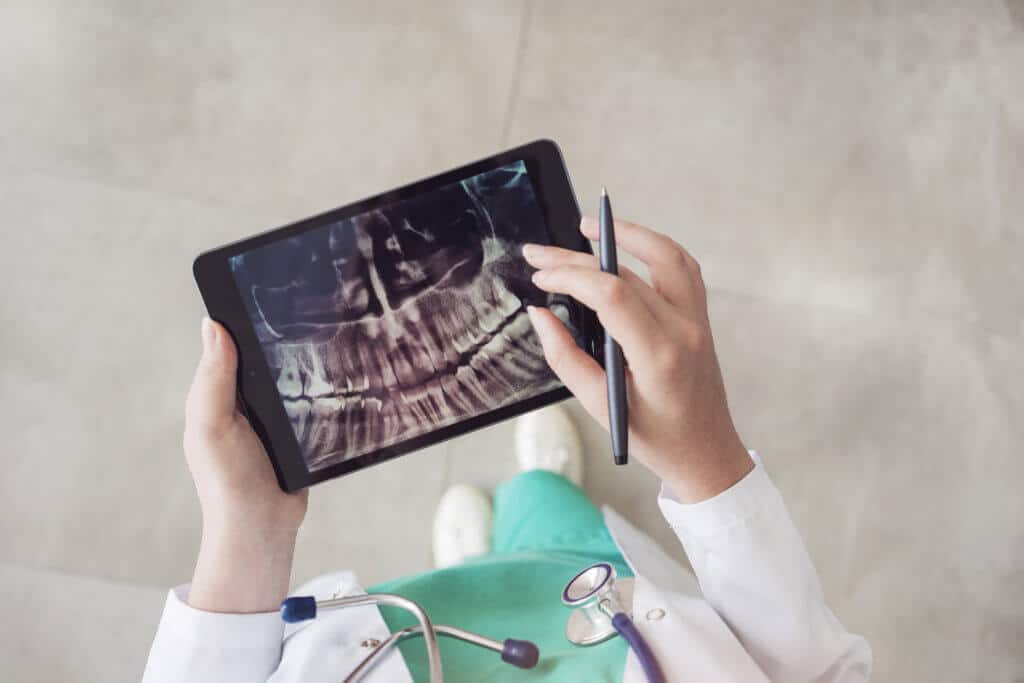 If you've landed here because you're trying to figure out what in the world internal and external resorption are, you're not alone. These similar, yet distinct conditions are far from common when compared to other dental and endodontic ailments. The lack of general awareness surrounding external and internal resorption often leads to a prevailing fear over what exactly they are, their overall severity, and the details of treatment.
While the fear is often justified given the nature of the conditions, it's reassuring to know that treatment is possible. It's also helpful to have a basic understanding of the causes and symptoms.
What is Internal Resorption?
Internal Resorption is a condition in which cells inside a tooth called odontoblasts decay and erode a tooth from the inside out. The normal function of healthy odontoblasts is to create dentin, a bony-like material that is housed just under the enamel of a tooth. When an internal resorption is present, dentin wears away exposing the nerves of the root and more to further damage.
Causes
Typical causes of internal resorption are:
Trauma/damage to a tooth
Exposure to excessive heat or harsh chemicals
Untreated tooth decay that invades the pulp
The level of damage brought about by the causes above ultimately determines the severity of the internal resorption.
Symptoms
Surprisingly, severe pain in the affected area is typically not present as a symptom. The main symptom is a reddish discoloration of the tooth. However, if the internal resorption has existed for quite some time, it will begin to affect other teeth and areas of the mouth which often lead to intense pain.
Diagnosis
The diagnosis of internal resorption is where things start to get increasingly complicated. As you'll learn below about external resorption, many of the same characteristics are also at play. This includes similar signs and methods when it comes to the diagnosis. Because of this internal-external resorption can often be misdiagnosed.
Characteristics of the diagnosis of internal resorption include:
A hollow circle within the canal area
Visible through dental x-rays
If available, a 3-D Cone Beam CT can provide additional confirmation
Our team at Advanced Endodontics utilizes 3-D Cone Beam CT's in properly diagnosing either internal or external resorption. An accurate diagnosis will lead to the correct treatment plan.
Treatment
When it comes to treatment, the specific factors of the resorption will ultimately determine the unique treatment.
In general though, internal resorption is treated through the following steps:
A hole is drilled into the impacted tooth
The canal system is fully cleaned
Calcium Hydroxide is placed in the tooth to create an alkaline environment and deactivate the cells causing the damage
Confirm that the harmful cells have been eliminated
Gutta-percha (which is used in other standard root canal treatments) is placed in the tooth to fill the void in the canal.
What is External Resorption?
External Resorption is a condition characterized by a loss of dentin which begins outside an affected tooth and affects the external area of a tooth. Left untreated, external resorption can spread to the tooth pulp and lead to internal resorption.
Causes
External resorption is most often caused by dental trauma.
However, other causes can include:
Extended use of orthodontic devices such as braces
Excessive tooth grinding or tooth bleaching
Cysts
Tumors
Chronic inflammation
As is the case with internal resorption, the severity of the injury will ultimately determine how quickly the issue needs to be addressed.
Symptoms
Not unlike internal resorption, pain is often not the first symptom associated with external resorption.
If caught early, the most common first sign of external resorption is holes and/or chips on the surface of the impacted tooth. Additionally, x-rays may also display roots or root tips that exhibit abnormal flattening or shortening.
External resorption that has existed for a longer period of time can also show the following symptoms:
Dark or pinkish discoloration
Severe pain in the affected area
Abnormal spacing between teeth
Holes similar to cavities on the surface of the tooth
Diagnosis
As external resorption originates on the external area of a tooth, diagnosis can be achieved through manual observation. However, in order to rule out internal resorption, dental x-rays are nearly always utilized.
Treatment
The treatment for both external and internal resorption is very similar since the culprit area that requires treatment is the root canal. The major difference with external resorption is whether the exterior root surface requires surgical repair. Ultimately, this is fully dependent on the level of damage present in the affected area.
Treatment Through Advanced Endodontics
At first glance, external and internal resorption can be quite the scary issue to deal with. However, with our highly trained and compassionate team at Advanced Endodontics, you can rest easy knowing that you'll be taken care of. We'll guide you through the process from diagnosis to treatment, so you know exactly what will occur. Our experienced team has treated internal-external resorption in many patients which means we know exactly what needs to be done to treat the issue safely and quickly.
Contact us today at Advanced Endodontics to get help with your treatment and any other endodontic concerns. We look forward to speaking with you!