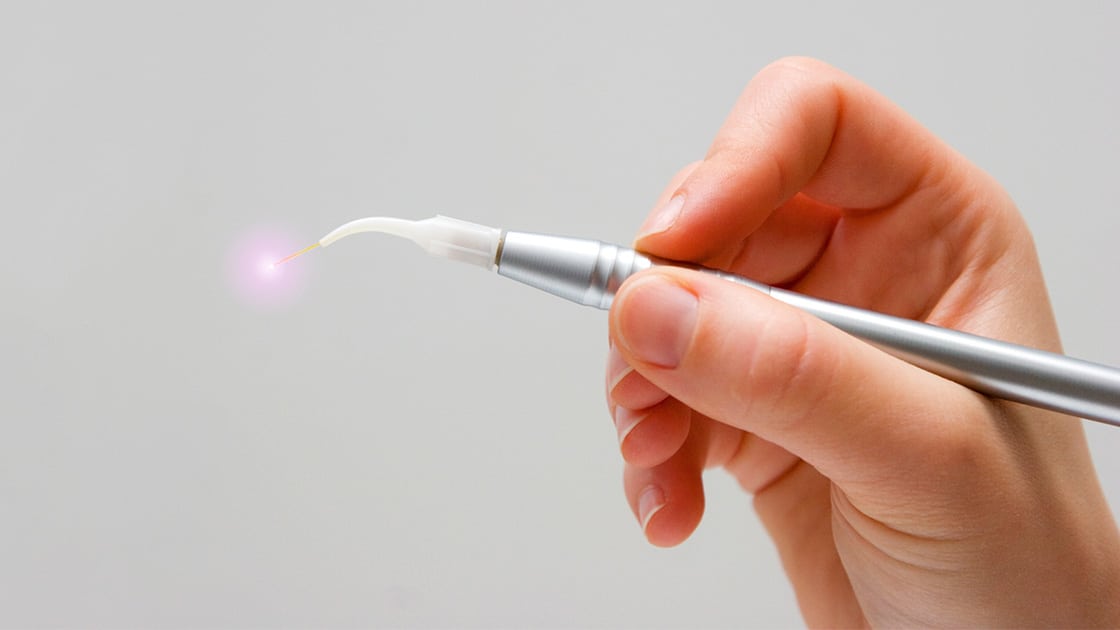 Advanced Endodontics provides laser endodontics in Central FL. Call one of our six offices to learn more and schedule an appointment.
Lasers in Dentistry – Minimally Invasive Procedures
Laser endodontics provides gentle treatment with the utmost precision. The Fotona LightWalker Laser is one of the most advanced dental laser systems available today – and it is capable of addressing endodontic concerns involving soft and hard tissue procedures. It uses a combination of light energy, water, and air to target and treat specific areas. 
With laser endodontics, you don't have to worry about things like pressure, heat, or vibrations that you typically feel with traditional dental procedures. Instead, it operates smoothly, without noise, and without coming into direct contact with the tooth or the soft gum tissue. In other words, procedures handled with laser endodontics lead to a comfortable dental experience. 
Are You a Good Candidate for Laser Endodontics?

For those who may have anxiety over dental procedures due to the sounds and experiences with the equipment, lasers provide a much more comfortable dental experience. But, they are not the only ones who make great candidates for laser endodontics. Anyone seeking to have a gentle endodontic experience may be able to as there are very few things that keep patients from taking advantage of this advanced endodontic treatment. 
Some additional benefits lasers have over traditional methods include:
Reduced heat and vibration
Little or no need for anesthetic
Increased rate of retention of implants
Reduced damage to healthy tissues
Minimal post-operative swelling and discomfort
Fewer infections or post-operative complications
Lasers have numerous functions in dentistry including:
Biopsy or remove soft tissue lesions and ulcers
Remove areas of tooth decay
Increase rate of retention of implants
Eliminate infection in gum tissue pockets
Perform frenectomies (such as correction of ankyloglossia)
Perform oral surgery and extractions
Frequently Asked Questions About Laser Endodontics
Can root canal treatment be done through laser?
Laser endodontics is used in tandem with traditional root canal techniques to remove the infected pulp and disinfect the tooth. This is an effective way to treat ailing teeth successfully – with a decreased risk of recurring infection.
Is laser endodontics less painful?
With traditional endodontics, a local anesthetic is given to remove any discomfort during the procedure. With laser treatment, the anesthetic may not be necessary. At Advanced Endodontics, we always make sure that our patients have a comfortable dental experience.
How does laser treatment reduce the chance of infection?
Lasers sterilize the area they are focused on which allows them to reduce the interaction with bacteria during procedures – and, as a result, reduce the chance of infection.
Looking for an endodontist in the Central Florida area? Contact us today to schedule an appointment.