How To Deal With Dental Anxiety and Fear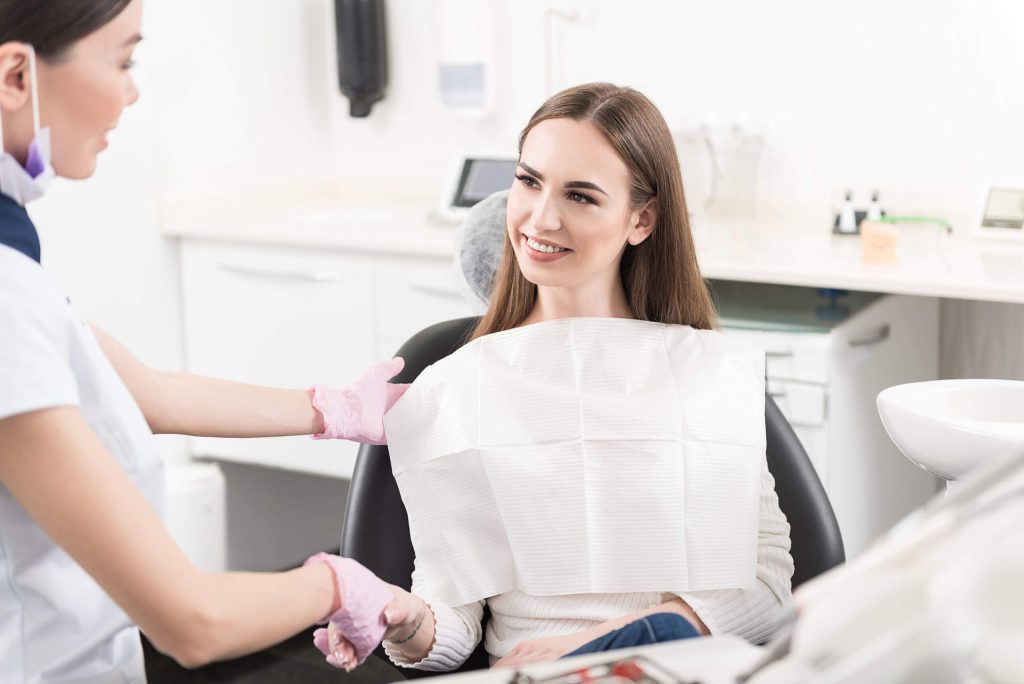 Fear of going to the dentist can run the gamut of mild anxiety to full-blown dentophobia. In general, phobias comprise an excessive fear reaction, even though you realize your fear has no rational basis. For example, acrophobia, the intense fear of heights can cause panic attacks, even if the sufferer is in no imminent danger of falling.
Most phobias are the result of some unpleasant experience, such as a fall resulting in a painful broken bone. One thing anxiety and a phobia have in common is that they are treatable. The best treatment for most phobias is exposure therapy. The goal of the treatment is to show sufferers that they do not have to be limited by phobias. They can manage their reactions to stressors and learn to control the anxiety.
Fortunately, dental anxiety sufferers can, without the help of psychotherapy, take charge of their fears and reduce the anxiety. The first step is to recognize that the more you delay going to the dentist, the higher risk of having that routine cleaning session escalating to invasive gum surgery or lengthy root canal sessions.
Warning Signs That You Need a Root Canal Procedure
The only sure way to know if you need a root canal is to go to the dentist. There are several warning signs that could be serious enough to overcome your dental anxiety and come in for an examination:
1. Chronic and persistent (at times intermittent) pain in the tooth: pain is often felt deep in the bone or transmitted (referred) to your face, jaw, or to adjacent teeth.
2. Sensitivity to cold and heat: sharp pain or a lingering dull ache could occur after drinking a glass of ice water or a hot cup of coffee.
3. Tooth discoloration: often the effect of infection in the pulp of the tooth or breakdown of internal tissue.
4. Swollen gums: this may come and go—caused by acidic waste products or dead pulp tissues.
5. The tooth is sensitive to touch: the ligament at the tooth's root causes hypersensitivity from the dying pulp.
6. You chipped or cracked a tooth accidentally: bacteria can invade and lead to root infection and pain.
7. The tooth feels loose: usually caused by nerve death.
How To Overcome Dental Anxiety
Here are three strategies the American Dental Association recommends to lower fear:
1. Tell your dental treatment team about your anxiety.
Mentioning your fears at the appointment desk and reminding your dentist and staff about how nervous you get will open a dialog that dental professionals know best. Dentists know that dental anxiety stems almost exclusively from a previous bad experience and they know how to guide you through any procedure to keep you comfortable and at ease.
2. While in the chair, try to distract yourself.
Bring your headphones with you and listen to your favorite (preferably relaxing) music or audiobook. Go to your "happy place" and try to visualize yourself relaxing at the beach or strolling up your favorite mountain path.
3. Practice stress releasing and mindfulness techniques.
When you sit in the dental chair, do a body scan. Starting from your head, work down to your toes relaxing your muscles one group at a time. Try counting your breaths with five inhales and exhales in the waiting room or during breaks while you're in the chair.
Learn the Facts About Advances in Painless Dentistry
Again, one of the biggest fears causing dental anxiety is the pain caused by the injection of the anesthetic, since most procedures are done using local anesthesia.
At Advanced Endodontics, we first give the patient a topical numbing treatment and use the DentaVibe instrument at the site of the injection to distort the patient's perception of discomfort. The DentaVibe also helps to quickly spread the anesthesia to make it work faster.
We also use other pain-control options including nitrous oxide sedation and oral sedation to keep you comfortable through the procedure. Nitrous oxide is an effective and safe sedative that is mixed with oxygen and inhaled. Its effects are felt immediately and may last up to 40 minutes.
Need a Root Canal?
Advanced Endodontics serve Central Florida patients from locations in Lake Mary, Clermont, New Smyrna Beach, Orlando, and Winter Park. Contact us to schedule your appointment. We know all about dental anxiety and our friendly, compassionate staff will lower your anxiety by building trust. We look forward to hearing from you!